Schedule
Students may start lessons at any time. Contact us directly for more information, availability, and to make an appointment for your free introductory class.
The core program of Suigetsu Dojo is Hakko Densho Ryu Jujutsu training. It is a holistic fitness program that builds strength, stamina, flexibility, balance, coordination, and spirit. Training offers the benefits of self-defense, stress-reduction, self-empowerment, and the personal satisfaction that comes with making a positive change in your life.
Each class consists of warmup, stretching, exercise, basic self defense techniques, and an in depth presentation and practice of Jujutsu. Our philosophy at Suigetsu Dojo is one of cooperation. The environment is not one of competition. The only competition is within yourself.
Students of all shapes, sizes, abilities and ages are accepted. The only requirement is a willingness to work hard and a desire to learn. True martial arts training requires a lifetime of study and provides profound benefits. It is never to late to get started!
For a complete schedule of HMAF Seminars, visit the HMAF website calendar.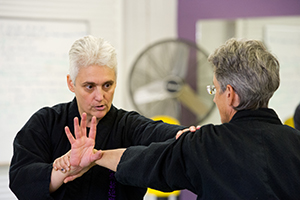 photo by Catrina Marchetti
The HMAF Gasshuku is a semi-annual event held on the west coast in the spring and the east coast in the fall. At these training camps, Hakko Densho Ryu practitioners as well as martial artists from all different arts gather to train together, network, and socialize.For more information, visit the HMAF info page.